About Our Founder & Working Visionary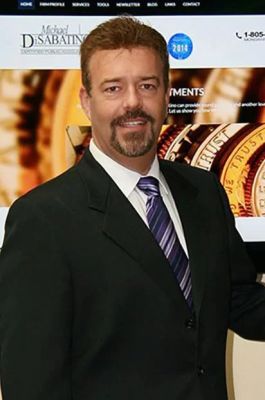 "I believe that communication is the key element between a client and their advisor. As such, building a solid relationship must begin with an understanding of who you are dealing with and how they do business. I invite all considering the Firm of We Do Books to contact us for a free initial consultation so that we can provide you a sense of who we are and how we can nurture your personal and professional financial growth and stability. We look forward to the opportunity to earn your confidence in our abilities and processes. Let's start now.... What follows is a brief biography to allow you a better understanding of my background. "
Biography
BEGINNING
Michael's father encouraged his eager younger son into entrepreneurship early in life. Born and raised in New Jersey, Michael routinely established contracts with his dad beginning in the sixth grade. By the age of 16, Mike was well on his way with his own motorcycle accessory shop!
Mike later worked with General Motors after graduating with a BS degree in Accounting and a concentration in computer science. The young man then entered public accounting and obtained his CPA certificate with a local firm in New Jersey, providing him the basis for a working knowledge in public accounting. In 1988, a Ventura, California-based construction company invited Mike to service their accounting needs, leading to his eventual relocation to California in 1990.

EARLY CALIFORNIA
Shortly after arriving in Ventura County, Mike established an accounting firm in Channel Islands Harbor. As the practice grew, Mike continued to serve clients in both New Jersey and California. In 1999, with the passing of his father, Mike returned to New Jersey for a period of time, leaving his practice with a local Ventura firm. Irresistibly drawn to sunny Southern California, Mike happily accepted a position as CFO of a software company, then located on the 20th floor of the Oxnard Tower, in the height of the "Dot Com Era" and discovered a new passion for website programming while assisting Intel with the build of a section of their website. The software company successfully spun off several of its segments, just prior to the high-tech industry's crash. Always maintaining his roots in accounting, Mike continued to service larger clients on project-by-project need, which were referred by long-term attorney relationships Mike developed. Most of the companies were multi-national requiring a forensic accounting approach to their State-side operations, using management transitions.
WEB SITE DEVELOPER
Concurrent to his project based accounting assignments, Mike then sought to indulge his passion for motorcycles through developing what grew to become the most popular motorcycle-related site on the Web, Sportbikes.com. As web-based enterprise took hold of the Net, Mike's business continued to grow and take shape, reaching its peak in 2006 with the unveiling of an on-line magazine designed by Mike and his small development team. In 2007, Sportbikes.com earned the honor of the prestigious 2007 Community Site of the Year award from Ektron, Inc. and the business was successfully merged with the on-line publisher, Vertical Scope. The website and Michael's understanding of early Social Networking became a reference and case-study for a white-paper "Customer 2.0" by the Aberdeen Group.
CAMARILLO CPA FIRM
The firm of DiSabatino, CPA; located in Camarillo, was established in 2005, and continues to expand. As a boutique CPA firm, the clients enjoy a one-on-one experience with Michael. Services range from personal tax preparation for individuals through financial consulting and planning for distressed businesses, sometimes taking on the role of a part-time chief financial officer (CFO), Mike serves as a respected advisor and financial partner to his clients. Please explore this website for additional information on the firm and the services we provide. Clients ranged from local neighbors to $30million manufacturing firms, entertainers and world renown businessmen.
WE DO BOOKS
We Do Books™ was founded on the principles that small businesses need the same high-end accounting and tax work that larger businesses  have at their disposal, but at a reasonable rates.  Reaching back to Mike's father's businesses, he realized that entrepreneurship is not an easy go... you need a good team, so We Do Books™ was formed!  Bring a financial and tax team to the small business.  CFO-Lite accounting work, tax  planning, bill paying, cashflow management... all, at an easy to afford monthly fixed-fee. We Do Books™ works with individuals with tax preparation, tax-planning and estate work through small businesses providing all the necessary accounting and tax work that will free the entrepreneur to concentrate on doing their business!
We Do Books decided that Arizona would be the home of the new business, and established a Scottsdale office. As of January 2023, the home office was moved to Wickenburg, AZ.  We Do Books services businesses and individuals in most every state in the US.
Education
New York University School of Photography

William Paterson University, Wayne, NJ

Harvard University, Cambridge, MA
Certifications
Certified Public Accountant (CPA)

Licensed Real Estate Broker

Certified Tax Professional (CTP)

American Institute of Tax Studies, 1994-1997

Registered Representative

NASD Series 7 Securities Broker, Relinquished 11/93

Licensed Health and Life Insurance Agent

Countermeasures in Industrial Espionage

New York University - Certificate Course

California recognized press photographer 2003-2021

Pistol - Range Safety Officer

Pistol - Range Safety Officer - Emergency 1st Aid - Women's Handgun - Countering the Mass Shooter
A Sample of Mike's Vehicles